Blueskykitchen.com Media Information
Pioneering chuck boxes and camp kitchens since 1988!
Welcome to the media page for blueskykitchen.com and camping-tips.com. This page is provided as a resource for editors, reporters, web-masters, blog writers and other members of the press.
Camping community summaries
Blueskykitchen.com - is an Internet and mail order business whose purpose is to producing innovative high quality camp kitchen products and provide information that facilitates the tent camping experience.

Camping-tips.com - is an informational web site designed to explain, illustrate and demonstrate useful camping techniques and procedures and provide a doorway to other useful camping resources and discussions.

youtube channel - product demonstrations, instructional 'how-to' and outdoor videos.

videocamper:blog - articles from Ken

Camping-tips newsletter - an occasional Ezine
Owner BIO
Ken Ralston is a 1979 Industrial Arts Education graduate of Northern Arizona University. In Flagstaff he taught for public schools and community college and developed his own creative skills working for W.L Gore and associates in design and engineering capacities.

He has been a working owner in both plastic fabricating and electronic equipment repair business, written an informative do-it-yourself camp kitchen book and been issued a U. S. patent.
His camping chuck boxes and other camp kitchen components are the result of over 30 years of trial and error. These products range from build-your-own detailed plans books to DIY kits and unfinished to 'ready-to-use' finished products.

Personal passions include:
Tent camping
Playing bluegrass, country and folk music with friends.
Teaching tent camping skills and promoting camping.
Designing and manufacturing highly evolved chuck boxes and camp kitchens.
---

Market Gap - The Early History
Market Gap was the company name we used early (That's a whole nother story ;-) when our mainstay product, the Grubby One, was introduced. That is still the legal name of the business for most money transactions anyway.
We actually sold our first chuck box in 1988 at a swap meet. It looked much like the one in this advertisement we ran in a local circular. ( Note September of 1989 date. )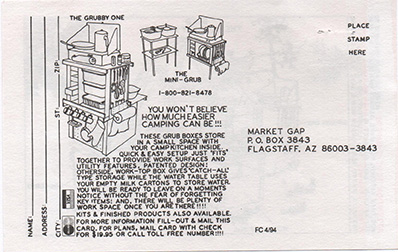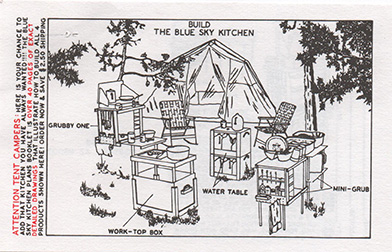 Market Gap - to the Blue Sky Kitchen
The Blue Sky Kitchen came along a little later which just made more sense from a marketing perspective as other products were added and "Blue Sky Kitchen" just had more of an outdoors 'feel' to it.
We also use to advertise in expensive card decks that were mailed to tarketed outdoor audiences. I think this one was called 'Fishin' Country'. Trying to find your market can be very challenging and expensive to a fledgling business.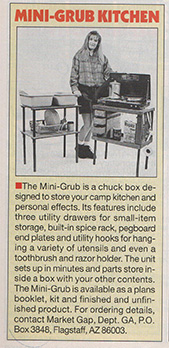 In the early days, GUNS and AMMO magazine ran a couple of our Press releases. The first one featured our first Grubby One design. This was the second PR in April 1994 issue 'What's New' section.( Incidentally, THANK YOU GUNS and AMMO magazine! )
Just to give you an idea of how much designs can change over time, here is what we call a mini chuckbox now.
---
Then came the Internet
In 1996 the Blue Sky Kitchen became blueskykitchen.com as we jumped head first on to the Internet bandwagon. The great discovery was that with search engines customers find you instead of you having to find them. And for probably ten years blueskykitchen.com was among the first sites to come up in search results for all the following terms:
camp kitchen
chuck box
grub box
That was mostly because we were pretty much the only manufacture or such things back then. Many people didn't even know what a chuck box was. Ken was actually the guy that wrote the original definition of a chuck box for Wikipedia. ( That definition has been butchered somewhat since then, by other contributors and editors.) We still labor to teach campers about chuckboxes.
These days search engines favor big companies with big websites. We have no idea why considering they only tend to offer products for sale and virtually nothing in the way of good quality education information.
---
Current Philosophy and direction
Blueskykitchen.com products have undergone many modifications to enhance their functionality, usability and affordability. This will continue to happen as form and function are never perfect. Our wooden chuck boxes and camp kitchen products feature light weight units that setup easy and quickly. From the beginning, we have offered multiple configurations of our products from plans, to kits to finished products to fit any budget. Here is a quick look at that evolutionary process as explained from a builder perspective:
---
Youtube Demonstration Releases
Grubby One and Two Extension Leaf
Current Press Releases
Plus eight Second edition of our design book.