For Immediate Release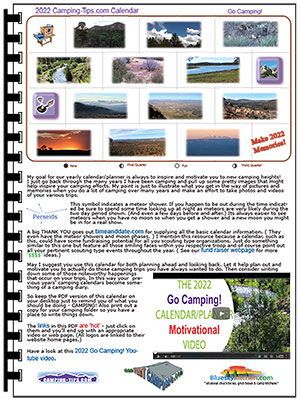 Contact: Ken Ralston, owner
Organization: Blueskykitchen.com
Phone: (928) 301-9004
Email: ken@camping-tips.com
Camping-tips.com introduces:

The 2022 Go Camping! Calendar/Planner and video "the first step in actually going camping is planning"
Prescott Valley Arizona, 1/1/2022
Camping-tips.com has been providing a free yearly Go Camping! Calendar/Planner for over a decade. These calendars have been designed to help motivate and inspire the camping enthusiast to plan out and actually do those long anticipated camping trips and vacations. Writing something down really increases the odds of it actually happening.
The planner is available as a free PDF download but most people just print out the pages and keep it in a camping folder or have it spiral bound at an office supply store. It's a calendar and a planner organized by month.
The calendar page (left-side) features a large box type calendar and an outdoor scene that has been extracted from video taken of past camping and outdoor trips. These images have been selected to inspire and motivate the camper within us. Most of these images were taken in Northern Arizona. The calendar also features major holidays, moon cycles and even common meteor showers.
The planner page (right-side) has 'to do' and 'things to remember' sections for jotting down what one needs before and/or after various trips. Wise campers tend to note things that should be different on the next trip. This leads to both better subsequent camping experiences and something of a camping diary for future reference.
Under the planner blocks are references to many of the informative camping-tips.com web-pages and Videocamper YouTube channel videos. These resources reveal a wealth of first hand camping know how and experience.
There is a video preview and explanation of the calendar and planner available for viewing on YouTube at:
2022 Go Camping! calendar/planner
This years' video has special meaning to Blueskykitchen.com owner, Ken Ralston, because his grandson, Blake, did the music score for it! In addition to being a wonderful musician, Blake is a member of the marching band at Coconino High school in Flagstaff AZ.
# # #
---
Press release in PDF form
---
Ken Ralston is an avid tent camper and outdoor enthusiast. His websites are designed to help campers
develop and refine their camping skills:
https://www.blueskykitchen.com/
Additional press information and BIO:
https://www.blueskykitchen.com/press-release.html