For Immediate Release
Contact: Ken Ralston, owner

Organization: Blueskykitchen.com
Phone: (928) 301-9004
Email: ken@camping-tips.com
BlueSkyKitchen.com introduces the
The MINI-GRUB
"made for the car camping vacation"
Paulden Arizona, 5/3/2018
Blueskykitchen.com has taken the camp kitchen size and weigh down another level with it's new "Mini-Grub" chuck box. It has external dimensions of 24" x 16" x 13 1/2" and weighs in at about 15 lbs empty. This product has been designed specifically for the vacationing car and tent campers. It stores camp kitchen devices and provides clean level surfaces for food preparation and cleanup.
The internal shelf space can store wash tubs and dish drainer that can double as drawers for large item storage such as plates, pots and pans etc.. There are also two drawers for storing silverware and utensils. The doors detach completely to offer portable work surfaces.
Box ends are configured with racks for spices and personal items with cup hooks on one end and a tooth brush holder on the other.
The box can be used on a standard campsite table or your portable table.
Options include a stand to make the whole kitchen a self contained unit. It is possible to store a standard camp stove between the box and the stand making for very compact storage of the entire camp kitchen.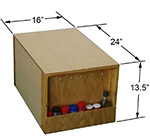 For product pricing, specifications and demonstration see:
https://www.blueskykitchen.com/Mini-Grub.html
High resolution product images available at:
https://www.blueskykitchen.com/Press-Release/MG-images.html

Blueskykitchen.com has been pioneering the camp kitchen chuck box market since 1988. It offers several highly evolved camp kitchen product options in configurations ranging from woodworking plans, to 'assemble-your-own' kits, to 'DIY unfinished and 'ready-to-outfit' finished products.

# # #
---
Demonstration video.
---
Press Release complementary article
It's summer! Plan a Camping Vacation.
The moon turned blacker than any black you have ever seen. The sun was converted to a brilliant white aura around that black 'hole in the sky' created by the moon. Venus came out as the sky darken and in every direction the horizon looked like a sunrise. It was the middle of the day! Like a roller coaster ride there was a feeling of thrill and chill at the same time.
Thus was the inspiration and reason for my very first car camping vacation, the solar eclipse of Aug. 2017.
However, the great take-away from that trip was how easy and inexpensive it is to do a camping vacation. Our excursion took us sight seeing through Monument Valley, Flaming Gorge UT, Casper and Devils Tower WY, Mt. Rushmore and the Badlands SD and we even worked in a family visit in Payonia CO. The entire eight day trip only cost about $350, mostly for gas.
The food expense while camping is really no different than what you would spend at home. However, restaurants, including fast food, can easily cost around $20 per person per day. Incidentally, even fast food is more expensive near the big national parks. Also, it's a lot easier to eat healthy when you prepare your own food.
The whole trick to doing a camping vacation lies in being self sufficient.
First, you will need sleeping provisions which usually means a tent though, some prefer two tents, one for the kids and one for the grown ups. Many vehicles have reclining seats so they can be configured for sleeping as well. ( Note: Hard shell camping is required in some national parks, Yellowstone, for example. ) Air mattresses and sleeping bags tend to be the easiest way to provide for comfortable sleeping.
Second, you need to eat. This means one must be able to cook and prepare meals. It isn't necessary to carry a lot of food as passing through a town with a store is pretty much an every day event. However, preparing that food will require a camp stove and kitchen devices, condiments, place settings etc.. That is best solved with a well outfitted chuck box. ( Small and light are good qualities in a camping vacation chuck box.)
Planning doesn't have to be as precise as you might think. It's good to have a general idea of when and where you want to be but if you get to campgrounds early there won't be much problem finding a good campsite. The busier ones start filling up pretty fast after about 3:00 PM, though. Route planning could also reveal a good chance of seeing some long lost relatives or maybe an old college buddy you haven't seen in ages. You might even be able to 'mooch up' a night of sleeping in a bed with sheets and a shower!
To that end, you could also plan on staying in a commercial campground such as KOA every few days. They offer showers, laundry and other amenities but are considerably more expensive than national forest campgrounds.
Setting up and tearing down a campsite every day seems rather daunting but it's actually much easier than you think if you have done some crew training and practice. A backyard camping trip could be your best way to achieve this end and develop your routine for managing and storing all that needed equipment. Also, roof racks and tow hitch cargo carriers are good investments for those bigger families that might need some extra help storing all their gear.
No more, "Are we there yet?" The smart phone with game and music apps and video capabilities gives the kids something to do during those long drives. This will install a lot more fun in the journey. It also gives you a great rationale for having those devices turned off in the evening so you can all enjoy each other around a cozy campfire.
The camping vacation is a very economical and fun way to travel the country visiting national parks and other worthy sights. It's a great opportunity for quality family time. For your children, such vacations may very well provide for the most cherished of their childhood memories. Go Camping!
These links are great resources for those wishing to do a camping vacation:
Camping vacations
Tent Camping resource center
---
Ken Ralston is an avid tent camper and outdoor enthusiast. His websites are designed to help campers
develop and refine their camping skills:
https://www.blueskykitchen.com/
Additional press information and BIO:
https://www.blueskykitchen.com/press-release.html