The Mini-Grub Camping Vacation Box

Most vacation spots offer nearby improved camping.
A lot of us tent camping types are quite good at managing in what is really primitive camping situations. You know, when you are camped way out in Bonniesville and if you don't take it, that means you don't have it. Of course, this includes everything from camp kitchen needs to your tent sleeping provisions right down to even the water you drink and use for the dishes.
The camping vacation world is a lot different in two important ways. First you are usually camping in established improved camping camp grounds every night. These will often provide certain important items for you like a table with benches, water, trash dumpster, bathroom, fireplace and often a charcoal cooking device. Second, you generally move from one location to another every day and that means you are passing though towns where you have access to stores.
What all that means is you don't need to take as much gear and food. And actually it's not even close to what primitive camping requires. Plus the gear doesn't need to be as physically big. ( For example, a small ice chest will do nicely for one days needs.) The last camping vacation I did we didn't even take a tent as it was really easy to lay the back seats down and so pads and bedding made it possible to sleep comfortably in the car.
However, you are not going to want to eat just hot dogs and marshmallows ever meal thus the problem of being able to prepare and cook healthy meals is still a big factor and this requires a lot of stuff.
Enter the Mini-Grub camping vacation chuck box.
Here we have a smaller version of a Grubby One that can be used with or without a stand. It fits in the trunk of a small rent-a-car for use with a standard campsite picnic table or you can use it with a portable folding table as shown here. Still it can store everything from place settings to cook wear to utensils. Essentially, everything you need to prepare, cook, serve and clean up can be store right there in the Mini-Grub. ( Be sure to watch the video below. )
It has provisions for wash tubs and a dish drainer which also act as drawers for storing kitchen devices. There are a couple of other drawers for small item storage too. The ends have racks and most people will situate one for spices and the other for personal effects. And yes, there is also a toothbrush holder.
Honestly, most folks don't realize how many camping logistics this one box can solve for them.
Designed with the campground camper in mind.
The Mini-Grub is a compact, light weight chuckbox that will hold everything your camp kitchen needs for your next camping vacation and hopefully many more to come. Please note you can get it with or without a stand.
Click here to watch our video that explains the differences between a kit, unfinished and finished versions.
The Basic Mini-Grub
Basic Mini-Grub Order:
(
includes $46.90 in shipping!

)
---
( All prices are the cart total at
checkout - nothing else is added!)
The Mini-Grub with stand.
Mini-Grub With Stand Order: (
includes $71.28 in shipping!

)
---
The height of the Mini-Grub allows it to be used with a standard Grubby One stand so that a standard cook stove can stored smartly between the stand and the box.
"The Mini-Grub arrived a little while ago in perfect shape...what a great design. It feels lighter than you list. Can't wait to try it out on our next scout campout. " - Eric from Virginia
Our Demo Video.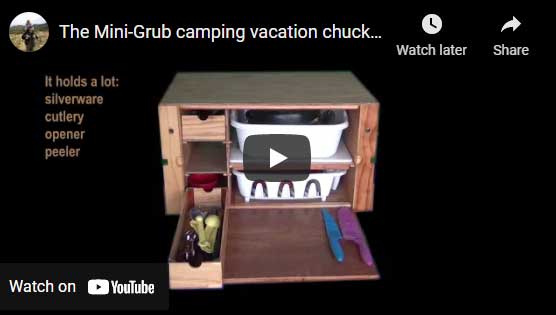 Customer interview demo video.