Chuck Box Versions and Laminate Notes
Chuck Box Kits
All pieces cut to size with the difficult parts like drawers made for you. All drilling except a few pilot holes has also been done for you.
( Kits are not available for all products.)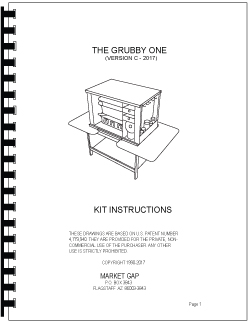 Illustrated step by step instruction book included.
'How to videos' included.
Unfinished Boxes
Product is delivered completely assembled and ready to stain, although additional sanding can enhance the appearance some. There are many stain options available as shown per examples. Finish with either urethane or spar varnish. Some folks have be known prime and paint instead.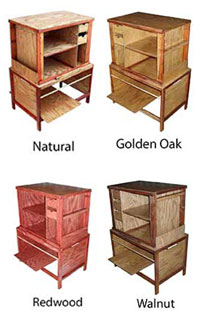 Finished Boxes
Completely assembled with a coat of natural stain and a coat of polyurethane as shown here. Our finish is for water protection purposes and although it looks pretty good it's not by any means what would be considered a "fine finish". That would require multiple finish coats with light sanding in between coats. This could easily double the price of the box so, we don't do it.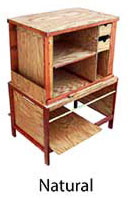 Designer Boxes
A finished box with laminate added. This adds a lot of functionality by making the clean up tasks easier and adds some water protect. We currently using oak grain laminate as shown in image. Laminate is not available for kits as assembly would require putting nails through it. We laminate the tops and shelves where you would be performing food preparation operations.
Please call or email me if you have any questions!
Here is the video comparison of the different versions.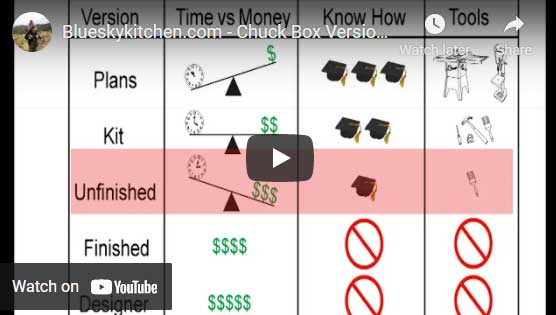 Take advantage of the three month plans credit option by:
Use your browser back button to return to the page you were on.
Go camping more often this year!