Mini Portable Camp Kitchen Boxes
Either half of our Grubby Two camp kitchen makes an inexpensive chuck box for those with limited room. Now each half and the connecting leaf are also available individually. ( Both boxes will interconnect with each other or even a Grubby One. )
These are great mini chuck boxes. Or get one now and budget the other for later to complete your Grubby Two.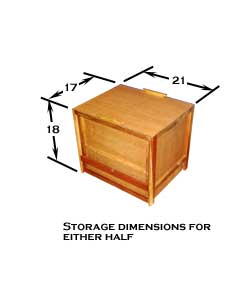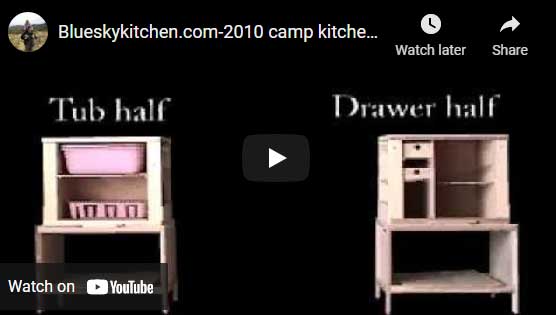 Blueskykitchen.com - Mini chuck boxes.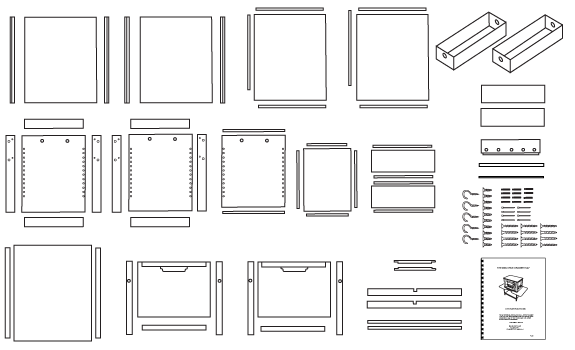 Drawer Half Box kit
$215.98 + $25.92 (shipping) = $241.90

---

Unfinished Drawer Half Box
$270.48 + $45.36 (shipping) = $315.84
---
Finished Drawer Half Box
$348.24 + $45.36 (shipping)= $393.60


---
Tub Half box kit
$192.72 + $25.92 (shipping) = $218.64

---

Unfinished Tub half Box
$235.54 + $45.36 (shipping) = $280.90
---
Finished Tub half Box
$313.30 + $45.36 (shipping)= $358.66

---
Grubby Two Options
---
A 'designer' box is just a finished box with laminate added. However, you can get laminate on an unfinished box as well but not with a kit.
Add laminate to top and shelves
(not available for kits )
$116.64

---
Shelf options ship the same as box - unfinished box gets unfinished shelves, finished box gets finished shelves, laminated box gets laminated shelves.
Grubby Two Piggyback Shelves

$135.79

---
Three foot Extension Leaf

(can be used with a single half or both)
$114.49

Shelf shipping is only needed if the shelf is order after the box has already shipped. (Use for either leaf or piggy-back shelves.)
---
A standard Grubby Two ships with two drawers in it. You can add up to two more.
add extra drawer

$22.09

---
---
Our guarantee: If the product does not meet your every expectation, return it within 90 days for a full refund, excluding shipping.
Shipping Note
We do not ship assembled products out of the continental United States at this time as shipping cost can easily exceed the price of the product.
Products usually ship within a week of the order and can take an additional week to reach the east coast. (Product ships from Paulden Arizona.) Please call or email if you need it sooner or would like to pick it up and save shipping charges.
---
About the versions.
Kits are all pieces cut to size with the hard to make parts, like drawers, assembled for you and all holes, except pilot holes, are predrilled and/or routed. Cup hooks and some hardware is provided but you supply the required 5/8" finish nails and wood glue.
You follow 'step by step' instructions to assemble the pieces into the various parts with finish nails, or better yet, a brad nailer and glue.
Nothing is particularly difficult but it does take time ( 6-8 hours for most people). I can safely say, you will earn that money you saved on buying a kit. ;-) Still kits are a great option for those who have more time than money or lack the tools or skills to build them from our plans.
Unfinished products are completely built and ready for stain and finish. This is probably the best option for most campers. It takes about three hours to stain and finish a Grubby Two.
Finished products are ready to outfit.
Free tech assistance is available during business hours via our contact number or email.
We also have extensive support videos.
Thanks for the order!