Here are but a few thoughts and pictures from previous customers. I'll probably end up doing separate pages for plans, kits, unfinished and finished as this really doesn't even scratch the surface. However, at least it gets us a start on the customer review and comments page. Thanks to all my great customers especially those that send pictures and comments.
***********Plans builders************
Plans write ups:
Steve's Grubby One write up on lumberjocks.
Grubby One with an extension leaf also on lumberjocks.
******************
Hi
Just built and used my chuck box for the 1st time so thought I would send a pic .
Paul from London
******************
A photo of my chuck box.......lots of inquires, and fun to build. - Kristie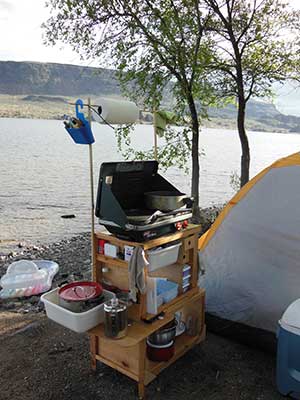 ******************
************Kit builders*************
( As emailed to me from Keith )

Ken,

Just completed the build. What fun. The pieces were cut exactly. The build pamphlet and videos (especially) were fantastic. I revisited them numerous times, and each time, I found new information…. Your thoughtfulness to the needs of the builder and attention to detail were very helpful.

In constructing the Grubby One, I was amazed at the amount of thought that went into it's development.

As I wasn't certain whether I could match the wood grain with formica, I decided to go with a solid color (burgundy).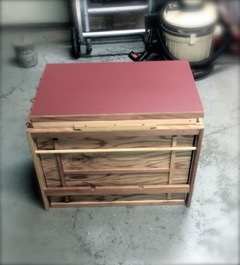 By the way, the new swivel/support shelf fit great. However, to use it, the rope handle has to be untied and removed each time; not enough clearance to install the swivel shelf even with the rope retracted. Maybe I'm doing something wrong. Not sure that a smaller diameter rope would make a difference.
Can't wait to show the Grubby One off to my camping buddies. They'll be jealous. For years a group of us old farts have sailed/camped together (we all have 12' beachable sailboats); with each trying to be the King of the Camping Gadgets. I'll have the next round of bragging rights! Now-a-days, we mostly do drive-in camping.
And best of all, now I don't have to worry about having a campsite with a picnic table, or sharing a picnic table!
Thank you again,
One Happy Camper
Keith
Camping/Sailing in the San Juan Islands
************Unfinished*************
Here it is. Planning to paint it, but haven't decided quite how. It came
together very easily.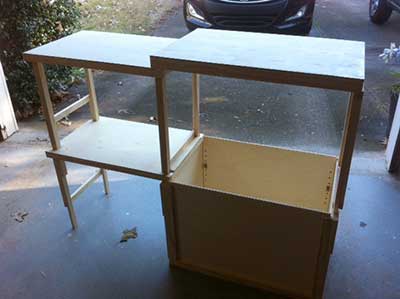 Ken
Here's my work-top box in the field. I found it handy to use the top
extension shelf inside the box rather than outside; it works great in either
role!
Kevin